Because we have been around for so long we have the history, experience, quality products and proven record of impeccable service within industry to find the right solution to your waste situation ...Click here for all Contact Details
INDUSTRIAL

WHEELBARROW/
MULTI-PURPOSE

RENTALS
| | | |
| --- | --- | --- |
| | | |
| | WP 100 | WO 300-LH |
DIVERSE RANGE OF TYPES OF BINS AVAILABLE:
RECYCLE STATIONS
Recycling Station 60 litre, 66 litre & 72 litre Bins

COMPACT RECYCLING BINS
Compact Recycling 28 & 39 Litre Bins


ROUND BINS
35 litre & 50 Litre
Also available without foot pedal

Colours: Green, Yellow, Charcoal,
Cytotoxic purple no long available in 35 or 50 Litre Round Bin
NEW SUPERIOR QUALITY
60 Litre Wheelie Bins
With Handle - Retro (no Lid Lifta®)
Without Handle - Standard - With or Without Lid Lifta®
ERGONOMIC PUSH WHEELIE BIN
The Wrightway Bin®

With or Without Lid Lifta®

4 WHEELED INDUSTRIAL BINS (SKIPS)
660 or 1100 Litre: With or Without Lid Lifta

®

Foot Pedal
BINS ACCESSORIES
Accessories for 2 wheeled bins (MGBs)


Accessories for 4 wheeled bins (Skip Bins)

DOMESTIC DETACHABLE FOOT PEDAL
The Bin Thing


For Domestic Use Only
Contact Sales for Details
THE wrightway2MT

®

RANGE OF BIN TIPPERS:
STANDARD wrightay2MT® BIN TIPPER
Lifts up to 240kgs: Standard Lift Heights 1275, 1575, 1875mm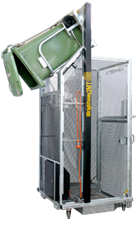 THE RIGHTWAY TO EMPTY
Meets Australian Standards
Australian designed and manufactured

wrightway2MT® INDUSTRIAL BIN LIFTERS
Standard Lift to 500kgs: Custom Lift to 1000kgs


To Lift and empty up to 2 standards Wheelie Bins,
or 1 x 600 or 1 x 1100 litre 4-wheeled bin.
Standard Lift Heights 1575 or 1875mm

wrightway2MT WHEELBARROWS
Lift & empty the contents of a wheelbarrow


Specifically reinforced Multi-purpose Cradle converts to lift wheelie bins

OTHER PRODUCTS
BALERS
Wide range of sizes to suit diverse applications
For Cardboard, Plastic, Shrink Wrap, PET, etc

DRUM CRUSHERS
Compact an 875mm Drum to 170mm
Compaction Force 6:1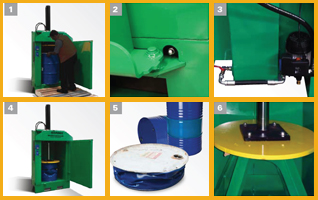 GLASS CRUSHERS
Compact in-house, or Heavy Duty Industrial Applications


...


Crush glass to sand or cullet
Orders and Returns
What to do if there's a problem with your order
Returns Policy
Wrightway Products accepts that from time-to-time goods may be damaged, faulty or defective upon delivery. Such goods, or goods which are not otherwise in accordance with the customer's order (i.e, incorrect item supplied), may be returned to Wrightway Products with written approval.
Wrightway Products may consider return of goods for change of mind, however, in these circumstances goods shall be returned to Wrightway Products at the customer's expense including freight and any applicable restocking or additional manual handling fees.
All claims for credit must be made within seven (7) days of receipt of goods. No goods should be returned without written approval (RMA) from Wrightway Products. All claims made after 7 days will not be approved and no credit shall be given.
Goods specially procured on behalf of a customer including non-stock or buy-in items, or products specifically tailored for the customer's requirements are not returnable.
Wrightway Products will not accept claims for loss or damage to goods where orders are by arrangement, delivered to and left at unattended sites.
If your items are rejected, undelivered and returned to Wrightway Products without prior written notice or reasonable cause, the customer is responsible for any additional charges for freight, applicable fees for restocking or additional manual handling.
All credits for returned product are issued provided that the products are in their original packaging, unopened, of a current make and model, and otherwise as new and in a saleable condition. Wrightway Products will not accept a returned product where the product has been used, marked, taped or otherwise tampered with by the customer.
Returns Procedure
Contact Wrightway Products Customer Support Team on phone (02) 66227111 for Return Materials Authority Form (RMA) within 7 days of receipt of goods. No credit will be issued without prior approval and signed RMA.