Lift & empty bins on-site, re-locate bulk waste to tip and empty trailer.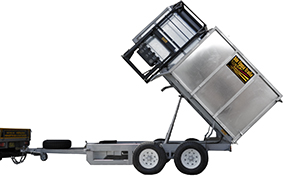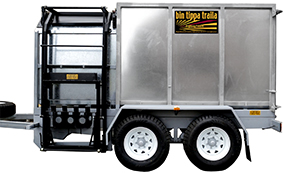 Designed and manufactured in Australia by Wrightway Products
BIN TIPPA TRAILA (BIN TIPPER TRAILER) DESCRIPTION:
3.2 metre, 7m3 holding capacity, TARE weight 1520 kg, fully galvanised heavy-duty hydraulic tipping trailer with a fully enclosed top and built-in mounted hydraulic bin-lifter unit with power plant (deep cycle battery & 12volt standard 7 pin flat plugs) for charging the on-board 12 volt power to facilitate on-site lift and empty of standard wheelie bins.
TRAILA INCLUDES:
• Leaf spring rock roller load sharing suspension with greaseable bushes
• Standard Draw-bar
• Electric 10" brakes on each axle and breakaway brake controller
• Mounted Spare Wheel/Tyre
• Breakaway Unit to facilitate break activation of all 4 brakes should the Traila become detached from the vehicle whilst being towed.
• In-Vehicle Battery Monitor to alert if Breakaway unit battery is low.
• Five Sunraysia 6-stud rims and heavy duty tyres.
• Battery to be charged after use or by vehicle through the Anderson Plug.
• Draw Bar Rating certified to tow the Bin Tippa Traila.
• PSI for tyres/load – as per manufacturer's specifications.
• MAXIMUM PAYLOAD: 1.5 ton. GVM 3 tonne
• Roadworthy Engineering Certificate supplied (VIN number)
• Heavy-duty marine battery.
• Standard 50 mm cup-link with safety chains (to 3.5 Tonne) & standard 7 pin flat plug connect to tow vehicle
BREAK AWAY UNIT:
An independent braking system designed to automatically engage should the Bin Tippa Traila unit break away from the tow vehicle. Includes an In-vehicle Bluetooth Monitor to check the charge in the battery within the Break-Away Unit. This battery will receive charge every time the driver engages the brakes on the tow vehicle.
POWER PLANT FOR TRAILA AND BIN TIPPA OPERATION:
• Deep Cycle Battery 70-100amp (Marine)
• Pendant control
• Hydraulic Power Pack
• 12volt 7-pin flat Plug wires direct to the hydraulic power pack for tandem axle Trailers
TRAILA SPECIFICATIONS:
• Overall Dimensions (External) 5.4m (L) x 2.49m (W) x 2.16m (H) (Length = Draw-bar: 2.145m + Tray: 3.255m)
• Internal Tray Size – 3.14m (L) x 1.79m (W) x 1.35m (H) tray
• COUPLING - 50mm towball
• AXLES – 45mm square 1600kg rated per axle
• FLOOR - 2.5mm Flat sheet
• SIDES - 1350mm high fixed to Traila deck
• J/WHEEL - H/D 8" Swivel
• COLOUR - Galvanised
• LIGHT PLUG - Flat 7 pin, LED multi-volt lamps
• TAILGATE - 1350mm high - Swing opening
• TYRES - 225/70R15C
• WHEELS - Sunraysia rims 15" x 7"
BIN TIPPA SPECIFICATIONS:
• Comb lift vertical hydraulic bin tipper
• Lift capacity of 150kg
• Lifts 80lt, 120lt, 140, 240lt garbage bins
• Lid enclosure for Traila incorporated into Traila design