SAFE, SIMPLE MANUAL OR ELECTRIC RELOCATION
OF 1 - 4 WHEELIE BINS (

120, 140 or 240 LITRE)
Click to download Brochure
Basic purpose-designed trolley with either one or two Handling Brackets.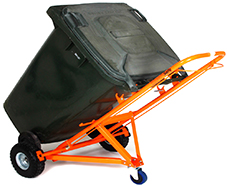 Five models available:
three manual models

two electric models.
All manual trolley models have a failsafe mechanical braking system which, as well as assisting in loading the bins, also prevents the loaded trolley getting out of control. The Electric models have a magnetic brake that automatically applies when the throttle lever is released.
Innovative Handling Bracket enables more than one bin to be handled at a time. The addition of two handling brackets enables up to four empty or lightly laden bins to be moved at once.
MANUAL TROLLEYS

Essential




Trolley

Multi

Dolley




Trolley




Essential Trolley
Basic model: Able to handle one (or two bins piggyback). Failsafe braking, large puncture-proof tyres, a wide track aiding stability, and a kick stand for vertical storage (see image below right).
Multi
With the addition of a Cargo Bar and a Handling Bracket this model can carry two bins abreast or piggybacked and can handle up to three or four bins at a time.
Dolly Trolley
Builds on the Essential with the addition of a third wheel which takes the load of the tilted bin off your back. It is designed to move single heavy bins reducing the risk of WH&S injury to the operator.
ELECTRIC TROLLEYS

Electric

Heavy Duty




Electric
Electric
Powered by twin 24v electric motors & featuring a tilt-load bearing third wheel, the Domestic Electric takes the whole load, the whole time. Like the manual Multi, it can handle two bins abreast or piggy-back or three bins in a triangular formation.
Heavy Duty Electric
Designed for prolonged operation in non-residential environments. Featuring two battery sets it can operate for two and a half hours without re-charging. The second handling bracket makes it possible to handle four empty or lightly laden bins at a time.
Heavy Duty Bin Transportation Trolley
FEATURES:

Essential
Trolley

Multi

Dolly
Trolley

Electric

HD
Electric

Failsafe Braking

Y

Y

Y

Y

Y

Puncture-proof tyres

Y

Y

Y

N

N

One bin from any side

Y

Y

Y

Y

Y

Two bins piggy-backed

Y

Y

N

Y

Y

Two bins abreast

N

Y

N

Y

Y

Three bins

N

Y

N

Y

Y

Four bins

N

Y

N

N

Y

Dolly wheel

N

N

Y

Y

Y

Powered

N

N

N

Y

Y